Posted Nov. 13, 2017, 2:28 p.m. - 5 years, 10 months ago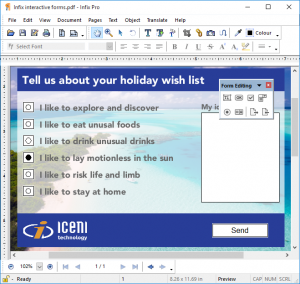 The latest update to Infix adds a set of new tools and functionality to enable creation of interactive forms with buttons, check-boxes, lists and other useful widgets. As well as creating your own, you can also edit forms created by other people in other applications and import/export data to and from forms in standard XML format.
To start using the forms tools, make the new toolbar visible by choosing: View->Toolbars->Form Editing. To help you get the best layout when designing your forms we recommend showing the grid, enabling snap-to-grid and guides. That way you can ensure all your form elements line-up nicely.
If you have an active license or subscription to Infix, just let it update itself or download and install the latest demo. If your license has expired you won't be able to get the new facility, sorry.