Selecting Objects
To select and manipulate objects (text, shapes, images) choose the Object tool (

) from the tool bar.
Select a single object
Click on a single object to select it.




When objects overlap, the top-most object is selected.




Hold

Ctrl+Shift

while you click to select the next object underneath the current object. Each time you

Ctrl+Shift

, the next object down is selected.
Selecting Multiple Objects
Method 1: Dragging a rectangle
Click and drag-out a rectangle.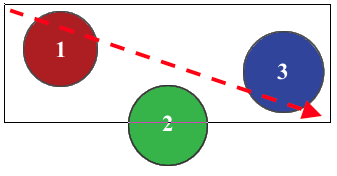 When you let go, any objects inside or touching the rectangle will be selected.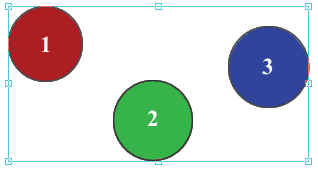 In this case, all three circles were selected.
Method 2: Shift Clicking
Hold SHIFT when clicking on objects to add them all to the current selection. This is a handy when method 1 above would end up selecting unwanted objects.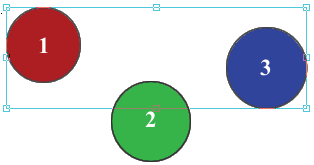 Circles 1 and 3 have been selected by clicking on each whilst holding the SHIFT key.
Notes
Press

Backspace

or

Delete

on your keyboard to delete selected objects.

Click and drag to move the object or selection of objects to a new position.

Use the cursor keys to move selected objects by 1 point (1/72 inch). Hold the

Shift

key as well to move by 10 points.

Copy/Paste of graphics from Infix to another other applications is not supported. You can export images to a standard format for import into another application. See

Extracting Images,

snapshots

and

Editing in other applications

Some pages are littered with invisible objects making selections difficult. These objects can usually be safely removed without altering the appearance of the page. To see invisible objects, choose

View->Outlines

or double-click on

Preview

in the status bar at the bottom of the main Infix window.

Cut/Copy/Paste may be used on single objects or groups of objects.