Posted Dec. 3, 2012, 9:48 a.m. - 9 years, 10 months ago
I know, I have an interest in Raspberry Pi.  I also have a penchant with video arcade games.  So when I saw this arcade game, I had to take a closer look.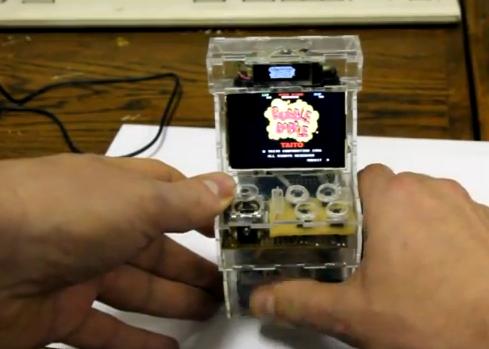 Jeroen Domburg is a 30-year old hardware and code hacker from the Netherlands that has built a video arcade machine that fits in the palm of your hand.  It is a snazzy-looking machine that is built out of Plexiglas and has a 2.4-inch TFT display for your (and my) game playing pleasure.
This is probably the world's smallest arcade game and it runs on a Raspberry Pi embedded controller.  It is powered by a Lihium Ion battery that charges through the Raspberry Pi's USB port
Jeroen, who goes by the name of Sprite_tm was bit by the Raspberry Pi bug and decided to design an arcade-type game console around it.  This arcade system can play several games.  A cool part is the marquis across the top that shows the banner of the game you are playing.
You can build your own, if you like.  Jeroen has made all the plans, special modifications and source code available.  So if you are curious, just visit his video arcade project site.
His SpritesMods.com web site also has a lot of other projects.
Let me know if you built one of these.