Posted Feb. 14, 2017, 3:44 p.m. - 4 years, 11 months ago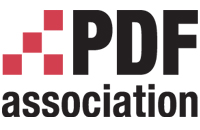 Two free workshops have been announced by the PDF Association, aimed at providing PDF tool developers the opportunity to validate their work against the new PDF 2.0 standard (ISO 32000 – 2).
One workshop will be held in the UK from May 2-3 in Cambridge, and the other in the US in June in Boston, MA.
The workshops are being hosted by Global Graphics Software and will give developers the opportunity to work in an environment where they can test their understanding of the new capabilities introduced with PDF 2.0.
Developers will need to sign up but the events are both free to attend. Will we see you there?