A friend had a project to create some posters for a musical event.  Production was going smooth and after all approvals on the artwork and form were signed off, the design was exported to a PDF file and taken out for printing.
He took the PDF file on a memory stick, plugged it into a self-serve machine at a popular printer service store and started printing 300 copies.  He noticed that pages were blank.  A careful examination of the PDF showed the poster followed by 148 blank pages.  If he didn't catch this he would have had to pay for nearly 45,000 pages – in color!
The big problem was the posters had to start printing that day and bundled for distribution.  I received the call at noon asking for help and an hour later my unnamed friend was knocking on my door with his laptop and the production software.
I opted to the immediate fix by deleting the blank pages.  This was easy with Infix.
I went to page 2 and clicked on Document on the tool bar.  I selected Pages from the dropdown menu and then clicked on Delete.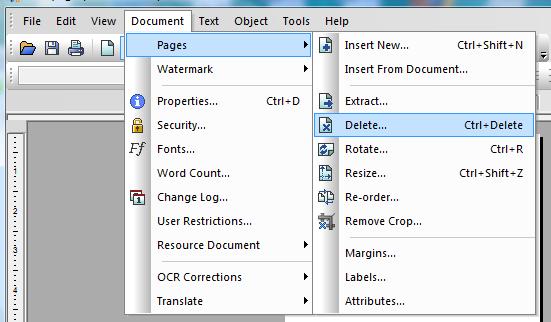 A Delete Pages window opened up.
I clicked on the Pages: radio button and entered 2 and 149 in the boxes. I clicked OK and now there was only the desired poster.  I saved the file and my friend was happy.
He went to the printer and had his posters the following morning ready for distribution.  I believe he will be buying Infix soon.
Now we have to find the cause of the extra pages.